Polystyrene Microspheres
EPRUI Biotech provides high quality monodisperse polystyrene latex beads for labs or large scale industrial use.
Crosslinked PS/DVB Microspheres
Non Crosslinked Polystyrene Latex Microspheres
Both noncrosslinked PS microspheres and crosslinked PS/DVB microbeads can be surface functionalized with carboxyl, amino or sulfonated groups.
The special part of our polystyrene latex beads is our PS beads are with perfect spherical morphology and narrow particle size distribution. Therefore, the applications of polystyrene microspheres are quite different from polystyrene/PS as plastic, which is commonly used in a variety of consumer product applications and is also particularly useful for commercial packaging.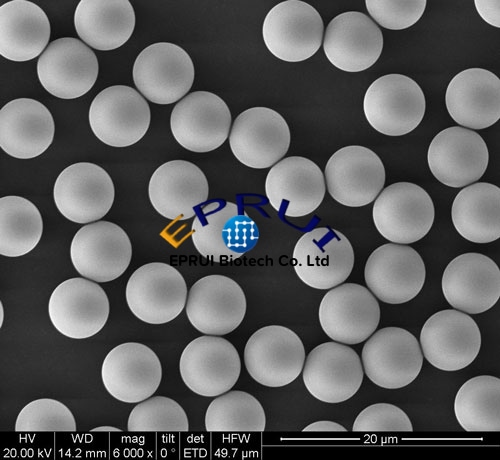 Buying Guide of Polystyrene Microspheres
Polystyrene latex beads are micron sized polystyrene particles with spherical morphology. EPRUI Biotech specializes in supply Crosslinked PS Microspheres, Non Crosslinked PS Microspheres, Nonfunctionalized Polystyrene Microspheres, Carboxyl PS Microspheres, Amino PS Microspheres, Sulfonated PS Microbeads etc.
1. What are the differences between PS and PS/DVB microbeads?
PS microspheres, we also call it noncrosslinked polystyrene latex microspheres or linear polystyrene microspheres. It is pure polystyrene without divinylbenzene, which we also call it crosslinking agent.
PS/DVB microbeads or polystyrene divinylbenzene microbeads are crosslinked polystyrene. Crosslinking agent makes the beads more stable especially when the beads are with large particle size. Say 10um or above. The non crosslinked polystyrene microbeads are soluble in solvents such as acetone, chloroform THF, tolune etc.
Different with non crosslinked polystyrene spheres, crosslinked polystyrene particles or PS/DVB exhibit much higher physical and chemical stability and are not soluble in organic solvents. PS/DVB microbeads have excellent mechanical strength and disperse well in organic solvents.
2. What is functionalized PS or PS/DVB microspheres?
Functionalized PS or PS/DVB microspheres are PS or PS/DVB microspheres superficially treated with various functional groups such as carboxyl, amino, hydroxyl, epoxy or sulfonated groups.
Usually functionalized PS or PS/DVB microspheres are good choice for covalent coupling of ligands such as antibodies, antigens, proteins, peptides, and nucleic acids.
3. How do we determine loading capacity of functional groups?
We use conductometric titration to measure loading capacity of functional groups. Please visit: Determination of Carboxyl Groups Content for detailed instruction.
4. EPRUI PS or PS/DVB Microspheres Features
Highly uniform particle size
Perfect spherical morphology
Good chemical and PH stability
High mechanical strength
Scale production, consistent quality and batch to batch reproductivity.
5. PS or PS/DVB Microbeads Applications
Different from common type of polystyrene resin, our polystyrene latex microspheres are widely used in the high end field such as self arrangement of microspheres, filter membrane screening, fluid dynamics research, photonic crystal film formation, instrument calibration, particle size standard.
Polystyrene latex spheres abbreviated as PSL mcirospheres are listed as suitable test materials when using particle counters by both the Institute of Environmental Sciences (IEST) and European Norm (EN) standards. HEPA-CHECK Filter Challenge Particles are polystyrene latex particles optimized for performance, aerosolization, safety and economy for both HEPA and ULPA filter testing. 25ml polystyrene latex beads was diluted into 1 gallon (3.79kg) with clean water, and then was aerosolized by conventional ultrasonic liquid vaporizer to test the filter membrane.
Unlike traditional oil-based filter test materials such as DOP, called dioctylphthalate, the HEPA-CHECK polystyrene latex spheres do not have carcinogenic health risks associated with atomized oils such as dioctylphthalate or other oil-based filter test materials. Due to the clean, oil-free nature of this ultra-pure water suspension, HEPA-CHECK is ideal for leak testing in-situ filters where the highest degree of cleanliness is required.
Polystyrene microspheres provided by EPRUI for HEPA and ULPA filter testing, are manufactured with a consistent, repeatable high uniformity that meet or exceed efficiency filter test requirements. , which is replaceable to Duke or Thermofisher Filter Challenge Particles.
PS/DVB microspheres used as packing resins in chromatographic columns as well as in medical diagnosis and biochemical industries.
For details, please visit: Microspheres Applications
6. PS/DVB Microspheres Related Products
7. Who are our customers?
Presently our customers are mainly from universities, research centers, labs as well as pharmaceutical companies, chromatographic column producers, diagnostic analysis and biotherapy related biotech companies.
Our university and research entity customers including:
Harvard University
Massachusetts Institute of Technology
University of California – Berkeley
Stanford University
Vanderbilt University
University of Minnesota
The Rockefeller University
Washington University
OHIO University
The University of Sheffield
Imperial College London
KAUST
Newcastle University
Physikalisch-Technische Bundesanstalt (PTB)
University of Tübingen
Fraunhofer IZFP
ESPCI Paris
Université de Tours
IMT Atlantique
ETH Zurich
Fachhochschule Nordwestschweiz
Korea University
Seoul National University
Nanyang Technological University
National University of Singapore
Singapore Institute of Manufacturing Technology
Tsinghua University
Fudan University
Tongji University
Our company customers including:
Illumina, Inc.
Agilent Technologies
BARD BRACHYTHERAPY INC
LGC Biosearch Technologies Inc
ChemGenes Corporation
SamSung
OSRAM
8. How to order