Protein A affinity chromatography medium by EPRUI is based on the monodisperse porous poly (methyl methacrylate) (PMMA) microspheres as the matrix, and genetically modified protein A as the ligand, which ensures its high affinity binding of monoclonal antibodies and Fc fragment containing recombinant proteins (macromolecules).
Our protein A chromatography media has high mechanical strength and good pH stability. Even at a high flow rate, the beads still maintained a high dynamic binding capacity, meeting the demands from laboratory preparation to industrial production.
Applications
EPRUI Protein A media was successfully applied in purification of hIgG from human serum.
Experimental:
Column: 7 mm×25 mm
Sample: human serum, 5 mL
Equilibration Buffer: 20mM PBS, pH 7.0  0.15 M NaCl
Elution: 0.1 M Glycine, pH 3.0
Residence time: 4 min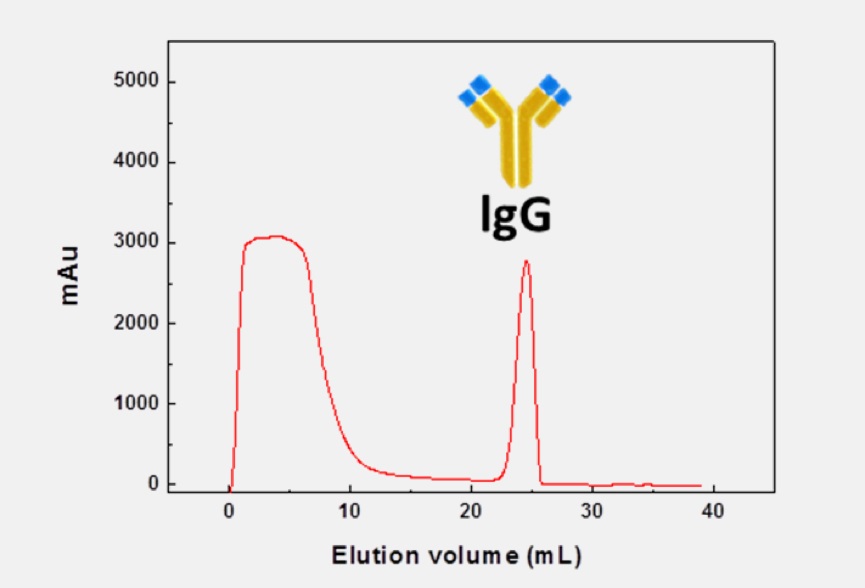 Highly uniform particle size
Good mechanical strength
Higher flow rate
High loading capacity
Better alkaline stability
Good reproducibility ,easy to pack
Higher pressure resistance, able to pack preparative column in large scale
Higher productivity
Cost effective
Clean with 0.1-0.5M NaOH
Product List
| | |
| --- | --- |
| Matrix | Monodisperse PMMA Microspheres |
| Diameter | 50um |
| Ligand | Recombinant Protein A |
| hIgG Dynamic Binding Capacity | >35mg/ml(4 min residence time) |
| Linear Flow Rate | 300-700cm/h |
| Maximum Pressure | 72.5 psi(5 bar,0.5Mpa) |
| PH Stability | 3-12 |
| Temperature | 4-40℃ |
| CIP Reagent | 0.1-0.5M NaOH |
| Storage | 20% ethanol, 2-8℃ |
Prepacked Column Specification
| | |
| --- | --- |
| Dimension | 7mm*25mm |
| Cartridge | Polypropylene(PP) |
| Column volume | 1ml |
| hIgG Dynamic Binding Capacity | >35mg/ml(4 min residence time) |
| Flow Rate | 0.25-1.0ml/min |
| Maximum Pressure | 43.5 psi(3 bar, 0.3Mpa) |