What is COVID-19?
COVID-19 is a new strain of coronavirus that has not been previously identified in humans.
Corona viruses are a large family of viruses that are known to cause illness ranging from the common cold to more severe diseases such as Severe Acute Respiratory syndrome (SARS) and Middle East Respiratory Syndrome (MERS).
Symptoms of COVID-19
Reported illnesses have ranged from mild symptoms to severe illness and death for confirmed coronavirus disease 2019 (COVID-19) cases. Symptoms may appear 2-14 days after exposure:
Cough
Fever
Headache
New loss of taste or smell
Repeated shaking with chills
Sore throat
Shortness of breath
Muscle pain
How to Recognize and Diagnose Coronavirus (COVID-19)
If you have the above symptoms, it is not 100% sure that you have the corona virus since some common flu also result in these symptoms. The way used most to diagnose COVID-19 nowadays is to take nucleic acid detection. Procedures as below.
1) Sample Collection
Collect patients samples
Swabs and collection
2) Viral RNA Extraction
Separate only RNA from samples. Purity and yield of RNA is important for diagnosis.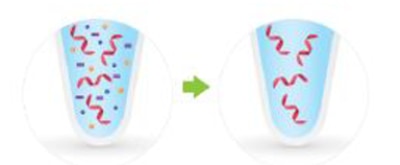 3) Real time PCR Detection
To amplify extracted RNA to diagnose diseases. Sensitivity and specificity of the test reagent is important for final diagnosis.

What can EPRUI contribute to fighting against COVID-19?
The weapon is our monodisperse magnetic silica beads which is used in the step of RNA extraction from collected samples.
EPRUI-MagSi: Silica magnetic beads are specially designed for extraction and purification of DNA/RNA. There are rich silanol groups on the surface which can specific binding nucleic acids in solution through hydrophobic interaction, hydrogen bonding and electrostatic interaction under high salt and low pH condition.
Without binding with other impurities (such as proteins), EPRUI-MagSi can quickly separate DNA/RNA from biological samples. The operation is safe and simple, and is easy for automatic and high throughput extraction of nucleic acid.

EPRUI-MagSi is monodisperse silica magnetic bead with narrow particle size distribution and excellent dispersion property compared with traditional multinuclear magnetic beads, EPRUI-MagSi is a single nuclear magnetic bead with silica layer thickness of about 1/20 of the size of the magnetic bead.
The magnetic content is more than 95% which greatly improves the magnetic responsiveness of the magnetic beads, and the complete magnetic separation time is less than 5 seconds. Based on the excellent characteristics of EPRUI-MagSi, which is very easy to perform rapid separation and rapid re-suspension dispersion after withdrawing magnetic field.
It is especially suitable for automated nucleic acid extractor, which greatly shorten the operation time of nucleic acid extraction process. Due to the narrow particle size distribution of EPRUI's silica magnetic beads, the batch differences during nucleic acid extraction can be significantly reduced, which provides guarantee to the reproductivity of in vitro molecular diagnosis and subsequent gene manipulation in molecular biology based on nucleic acid extraction.
What are features of EPRUI RNA Extraction Used Silica Coated Magnetic Beads?
Narrow particle size distribution
High reproducibility
Good biocompatibility
Superparamagnetic and high magnetic response (Saturation magnetization is greater than 40emu/g), saving operation time. Magnetic response time <30s
Excellent nucleic acid binding capacity (greater to 20ug DNA/mg Beads) to ensure the extraction effect
Easy to disperse and suitable for automated instrument of nucleic acid workstation
Good storage stability: complete silica coating, stable performance, resistance to 6M hydrochloric acid etching > 5 minutes
DNA extraction from blood, tissue, forensic samples, plants, animals and microbiology
Used in RNA extraction kits for COVID-19 diagnosis
RNA Isolation from virus
Plasmid DNA purification
Purification of PCR products
Silane coupling reagent can be further modified for immobilization of protein and nucleic acid